What we're all about…
Rob's Coaching is committed to creating breakthroughs, inspiration and new habits through a variety of programs that suit your individual needs.  Through a combination of classroom training and over the phone coaching, we are able to pin point those areas that are stopping you from reaching your maximum potential.  Our main audience consists of Entrepreneurs, Real Estate Brokers and Agents, Mortgage Loan Originators, Insurance Brokers, and C-Level Sales Executives.
You will learn the secrets of affirmations, declaring your future and becoming a creator of that which matters to you most. The groups are kept small and intimate, allowing you to share your experience in a very effective manner.
We look forward to having you become a part of our family and feel free to look through the website for more information.
Best regards,
Robert Carbuccia - your coach!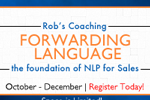 Neuro-Linguistic Programming – NLP for Sales
The Language of Influence Level 1 NLP – Click Here to Register Date: Wednesday March 4th, 2020 weekly sessions, not including holidays. Time: 1pm – 2pm /wkly Number of Sessions: 12 Location: 3696 N. Federal Highway, Fort Lauderdale, FL 33308 Level 2 NLP Date: TBD Time: 1pm – 2pm /wkly Number of Sessions: 12 Location: 3696… Read more »
Club Coaching – Realtors
DO YOU FIND YOURSELF WORKING LONG HOURS, LOSING MOMENTUM AND YET CAN'T SEEM TO EARN YOUR DESIRED LEVEL OF INCOME?
Introducing a powerful new solution …